Groundhog Lake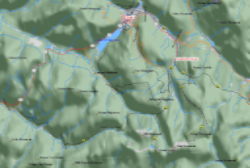 This trail can be accessed through the rear bulkhead area of Barkerville via Stout's Gulch, or from Wells via Lowhee Drive. This 8km  trail system leads to superlative hill climbing areas on the summit of Mount Agnes.
With a 1937 meter (6553 feet) elevation, the trail follows an historic ditchline that carried water to early mining camps.
This 2 1/2 hour return trip is rated for all skill levels, and there is a warm-up cabin at Groundhog Lake.
Proserpine
This trail begins directly behind the Barkerville Historic Town offices, via the snowmobile bridge. A highlight on the trip to the summit 1879 meters (6164 feet) is a side trip through a vintage 1930s mining camp.
Proserpine adjoins Bald Mountain, where there is plenty of powder and spectacular views. An expert rated trail leads from Bald Mountain to the Groundhog Lake Trail, and is only recommended for one way downhill traffice. The south side dropping off from Bald Mountain is closed for Caribou Habitat. Please watch for signage and respect closures.
Yanks Peak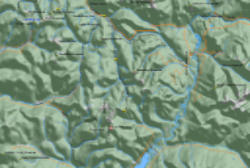 From Barkerville Historic Town take Proserpine Trail to the A Rd Junction, then follow the groomed trail to the 3100 Road to avoid logging traffic for 3 1/2 km. The Yanks Peak Trail begins at the X Road junction, and is groomed to the apporach of the alpine area.
Yanks Peak is the most challenging of all the area's trails, with an elevation of 1905 meters (6248 feet). The summit boasts miles of untouched powder riding amid spectacular views of the Cariboo Mountains and is rated for experienced and expert riders.
Round trip from Wells to the summit stop sign is 4 plus hours. Adjacent Rocky Top Mountain is home to the Williams Lake Snowmobile Club's warm-up cabin and can be accessed via the logging road at the old Cariboo Hudson Mine.
Sugar Creek Loop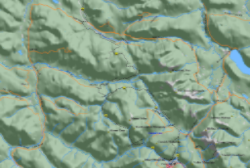 The most family oriented riding in the area, the Sugar Creek Loop begins in the Wells' meadow. Once groomed, this 35 km (22 mile) run is rated for all skill levels. The ride is about 3 hours return.
The Sugar Creek Pass area is frequented year-round by moose, and Mount Tom and Wiley Junction, elevation 1524 meters (5000 feet) is a Woodland Caribou migration route, so watch for and respect any wildlife you encounter, and stay on the trail where indicated.