Sponsors
When you make your trip up to sled in the Wells/Barkerville area, plan to stay a while.  Book a night at one of our local hotels or motels and stay for a nice meal at a local restaurant.
The businesses listed here are sled-friendly and support the Wells Snowmobile Club either financially or through volunteer work.  Help us "pay it forward" and be sure to support businesses that support sledders.
Hubs Motel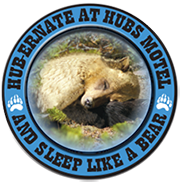 Located conveniently in downtown Wells, the Hubs Motel offers friendly service, clean and comfortable rooms, and affordable rates.
The Hubs Motel offers the following ammenities: kitchenettes, sleeping units, direct dial telephone, television, refrigerator, complimentary coffee & ice, and private baths.
For more information, or to make reservations, please contact the Hubs Motel. Phone 250-994-3313. Fax: 250-994-3425. Email: hubs@goldcity.net or visit their website, located at hubsmotel.ca.
Jack O' Clubs General
At the Jack O'Clubs General, there is a fuel pump station where you can also purchase gas (regular, premium & diesel).
Winter hours:
Monday to Saturday - 8:00pm - 6:00pm
Saturday & Sunday - 9am to 6:00pm
For more information phone 250-994-3242.
Forest Power Sports
Forest Power Sports has been a great supporter of the Wells Snowmobile Club and has generously donated the use of a trail sled used for maintaining our trails and Signage.
Thank You
120-988 GREAT ST. PRINCE GEORGE, BC V2N 5R7 - 250-563-1021